Brubeck Family – overview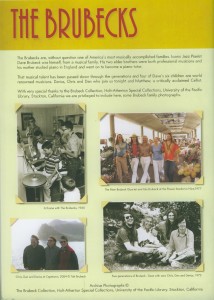 The Brubeck family is unique in the world of music. Seldom has an entire family been as prolific and talented. Four of Dave Brubeck's five children are professional musicians and, like the Dankworths, they all take off in different directions coming together at special times.

Darius, the eldest Brubeck son, is a jazz pianist, composer, educator and band-leader. His sold-out concerts at festivals and clubs around the UK in the last couple of years have received very good reviews. Chris, a multi-instrumentalist and award-winning composer, tours the world performing his exciting trombone concertos and is in great demand as a creator of innovative symphonic pieces. He is also an accomplished electric bassist who excels in jazz, rock and folk genres. Dan is a renowned, Grammy-nominated percussionist, acclaimed for his exciting drum solos and has been featured with musicians as diverse as Gerry Mulligan and The Band. His own recording group, The Dolphins, played to critical success at Ronnie Scott's.

In the 70's and 80's the three brothers recorded and toured worldwide with Dave as "Two Generations of Brubeck" and "The New Brubeck Quartet". Now, in their father's 90th. year, they have come together to play the music that made him a revered icon of modern jazz. With special guest British saxophonist Dave O'Higgins "Brubecks Play Brubeck" concerts will include famous Brubeck originals as well as standard tunes associated with Dave and a few of their own popular compositions.

While gaining substantial recognition in their own careers, as detailed in individual biographies, playing their father's music has always been an important part of their professional lives. For over fifty years, Dave Brubeck has been a giant of American jazz, exciting millions of fans with his inimitable improvisation and rhythms. He changed the landscape of jazz in the 1950's and 1960's, broadening its scope and audience and recorded the first jazz instrumental album to go gold. In December 2009, Dave received the Kennedy Center Award for a "lifetime contribution to American culture" and this tour will celebrate that achievement and resonate with new and old Brubeck audiences. The Dave Brubeck Quartet has been one of the most popular and influential groups in the last half century and the "Brubecks Play Brubeck" tour underscores its relevance today.

DAVE BRUBECK
Pianist, Composer
b. December 6, 1920

Dave Brubeck, designated a "Living Legend" by the Library of Congress, continues to be one of the most active and popular musicians in both the jazz and classical worlds. With a career that spans over six decades, his experiments in odd time signatures, improvised counterpoint, polyrhythm and polytonality remain hallmarks of innovation.

Born into a musical family in Concord, California– his two older brothers were also professional musicians–he began piano lessons with his mother at age four. He was 12 when his father moved the family to a cattle ranch in the foothills of the Sierras. Dave's life changed dramatically. Piano lessons ended and cowboy life began. He worked with his father on the 45,000 acre cattle ranch. When he was 14, he started playing in local dance bands on weekends. When he enrolled at the College of the Pacific, in Stockton, California, his intention was to study veterinary medicine and return to the ranch. While working his way through school as a pianist in local nightclubs, the lure of jazz became irresistible and he changed his major to music. Graduating in 1942, he enlisted in the Army, and shortly thereafter married Iola Whitlock, a fellow student at Pacific. While serving in Patton's Army in Europe, he led a racially integrated band. After his discharge from military service in 1946, he enrolled at Mills College in Oakland, California to study composition with French composer, Darius Milhaud. Milhaud encouraged him to pursue a career in jazz and to incorporate jazz elements into his compositions. This cross-genre experimentation with like-minded Milhaud students led to the formation of the Dave Brubeck Octet in 1947. In 1949, Brubeck with Cal Tjader and Ron Crotty, fellow Octet members, cut their first award-winning Dave Brubeck Trio recordings. After suffering a near fatal diving accident in 1951, Dave formed the Dave Brubeck Quartet with alto saxophonist Paul Desmond, who was also a member of the Octet. The legendary Brubeck-Desmond collaboration lasted seventeen years and beyond.

The Dave Brubeck quartet's recordings and concert appearances on college campuses in the '50s and early '60s introduced jazz to thousands of young people. The quartet's audiences were not limited to students, however. The group played in jazz clubs in every major city and toured in package shows with such artists as Duke Ellington, Ella Fitzerald, Charlie Parker, Dizzy Gillespie and Stan Getz. The Dave Brubeck Quartet repeatedly won top honors in trade magazines and critic's and reader's polls. In 1954 Dave Brubeck's portrait appeared on the cover of Time Magazine with a story about the jazz renaissance and Brubeck's phenomenal ascendancy.

In 1958 the Quartet made their first of many international tours. The U.S. State Department sponsored the Quartet's performances in Poland, India, Turkey, Sri Lanka, Afghanistan, Pakistan, Iran and Iraq. Exposure to many different cultures was reflected in the group's repertoire that sometimes incorporated exotic elements. The 1959 recording "Time Out" experimented in time signatures beyond the usual jazz 4/4. To everyone's surprise "Time Out" became the first jazz album to sell over a million copies and "Blue Rondo a la Turk" and "Take Five" (now in the Grammy Hall of Fame) began to appear on jukeboxes throughout the world.

Early in his career Brubeck wrote primarily for this Quartet, and some of those pieces, such as "In Your Own Sweet Way" and "The Duke" became part of standard jazz repertoire. His first orchestral composition, "Elementals", written for an improvising jazz combo and symphony orchestra was premiered and recorded in 1962. Choreographed by Lar Lubovitch, "Elemental Brubeck" is currently in the repertoire of the San Francisco Ballet and several other dance companies.

Throughout his career Brubeck has experimented with integrating jazz into classical forms. In 1959 his Quartet premiered and recorded his brother Howard's "Dialogues for Jazz Combo and Orchestra" with the New York Philharmonic, Leonard Bernstein conducting. In 1960 he composed "Points on Jazz" for the American Ballet Theatre, and in later decades composed for and toured with the Murray Louis Dance Co. His musical theater piece "The Real Ambassadors" starring Louis Armstrong and Carmen McRae was recorded and performed to great acclaim at the 1962 Monterey Jazz Festival.

The "classic" Dave Brubeck Quartet (Paul Desmond, alto sax from 1951; Eugene Wright, bass from 1958; Joe Morello, drums from 1956) was dissolved December 1967. Baritone saxophonist Gerry Mulligan joined a newly formed Dave Brubeck Trio (with Jack Six, bass and Alan Dawson, drums) the following year. This group recorded and toured the world together for seven years. In this period Brubeck also performed with three of his musical sons, Darius, Chris and Dan billed as "Two "Generations of Brubeck" frequently with Gerry Mulligan or Paul Desmond as guest artists.

In the '80s Brubeck led a quartet that featured clarinetist Bill Smith, a former Octet member, with his son Chris on electric bass and Randy Jones on drums. This group toured the Soviet Union in 1987 and along with former bassist, Eugene Wright, accompanied President Reagan to Moscow to perform at the Reagan-Gorbachev Summit in 1988. Since the Dave Brubeck Quartet's first appearance at a State Dinner for King Hussein of Jordan during the Johnson administration, Brubeck has performed at The White House on several occasions and for many different Presidents.

Shortly after the dissolution of the "classic" Quartet, the Cincinnati Symphony Orchestra, with Erich Kunzel conducting, premiered Brubeck's oratorio," The Light in the Wilderness" (February 1968). The following year Brubeck's second major work "The Gates of Justice", a cantata based on the words of Martin Luther King, Jr. and the Old Testament, was also premiered by Kunzel in Cincinnati. It has since been re-recorded by the Baltimore Choral Arts Society, Cantor Abraham Mizrahi, tenor and Kevin Deas, bass-baritone, for the Milken Archive of American Jewish Music, Russell Gloyd conducting.

Throughout his career Brubeck has continued to experiment with interweaving jazz and classical music. He has performed as composer-performer with most of the major orchestras in the United States and with prestigious choral groups and orchestras in Europe and America. Dave cites as some of the highlights of his career the premier of his composition "Upon This Rock" for Pope John Paul II's visit to San Francisco and the performances of his mass "To Hope! A Celebration" in St. Stephan's Cathedral in Vienna and in Moscow with the Russian National Orchestra and Orloff choir.

Dave Brubeck's compositions include a popular Christmas choral pageant "La Fiesta de la Posada", oratorios and cantatas, ballet suites, a string quartet, chamber ensembles, pieces for solo and duo-piano, violin solos and orchestral works. His mass "To Hope! A Celebration" has been performed throughout the English speaking world, Germany, Russia and Austria and was recorded in the National Cathedral in Washington, D.C. In 2002 the London Symphony Orchestra and London Voices recorded in "Classical Brubeck" his Easter oratorio "Beloved Son", "Pange Lingua Variations", "The Voice of the Holy Spirit" and a composition for string orchestra, "Regret", all under the baton of Russell Gloyd, who since 1976 has been associated with Brubeck as conductor, producer and manager. A mini-opera based on Steinbeck's "Cannery Row" was presented at the Monterey Jazz Festival in 2006.

While increasingly active as a composer, Brubeck has remained a leading figure in jazz, recording for Telarc, appearing in festivals and touring internationally in concert halls with today's version of the Dave Brubeck Quartet– Bobby Militello, sax and flute, Randy Jones, drums, Michael Moore, bass. As in the Dave Brubeck Quartet decades ago, each is a master musician and their concert repertoire ranges from "hits" from the old Quartet "book" to cutting edge new material.

Throughout his long career Dave Brubeck has received national and international honors, including the National Medal of the Arts from President Clinton, a Lifetime Achievement Award from the National Academy of Recording Arts and Sciences, the Smithsonian Medal, and a star on the Hollywood Walk of Fame. He holds numerous honorary doctorates from American, Canadian, English and German universities, including an honorary degree in Sacred Theology from Fribourg University, Switzerland. Recently, Brubeck received the Distinguished Arts Award from the Ford Honors program of the University of Michigan and in 2006 received from Notre Dame their highest honor, the Laetare Medal. He is a Duke Ellington Fellow at Yale University, and was presented with the Sanford Medal by the Yale School of Music

In the year 2000 the National Endowment for the Arts declared Dave Brubeck a Jazz Master. He was inducted into the American Classical Music Hall of Fame in 2003. In 2007 he received a Living Legacy Jazz Award from Kennedy Center and the Arison Award from the National Foundation for the Advancement of the Arts.

His international honors include Austria's highest award for the Arts, a citation from the French government, and the Bocconi Medal from Italy. The London Symphony Orchestra, acknowledging their long association, presented him with their prestigious Lifetime Achievement Award in 2007.

The most recent honor from his alma mater, the University of the Pacific, is the President's Medal of Achievement presented by Donald V. De Rosa. Dave Brubeck serves as chairman of The Brubeck Institute that the University of the Pacific established in his honor.

Dave Brubeck's most recent recording is a highly praised solo piano album "Indian Summer" that was named 2007 Album of the Year by Douglas Lytle, of blomberg.com.

Brubeck died of heart failure on December 5, 2012, in Norwalk, Connecticut, one day before his 92nd birthday. He was on his way to a cardiology appointment, accompanied by his son Darius.[44] A birthday party concert had been planned for him with family and famous guests. It was recast as a memorial tribute.

The Los Angeles Times noted that he "was one of Jazz's first pop stars," even though he was not always happy with his fame, uncomfortable, for example, that Time had featured him on the cover[46] before it did so for Duke Ellington, saying, "It just bothered me".[47] The New York Times noted he had continued to play well into his old age, performing in 2011 and in 2010 only a month after getting a pacemaker, with Times music writer Nate Chinen commenting that Brubeck had replaced "the old hammer-and-anvil attack with something almost airy" and that his playing at the Blue Note Jazz Club in New York City was "the picture of judicious clarity".

In The Daily Telegraph, music journalist Ivan Hewett wrote: "Brubeck didn't have the réclame of some jazz musicians who lead tragic lives. He didn't do drugs or drink. What he had was endless curiosity combined with stubbornness", adding "His work list is astonishing, including oratorios, musicals and concertos, as well as hundreds of jazz compositions. This quiet man of jazz was truly a marvel."

In The Guardian, John Fordham said "Brubeck's real achievement was to blend European compositional ideas, very demanding rhythmic structures, jazz song-forms and improvisation in expressive and accessible ways. His son Chris told The Guardian "when I hear Chorale, it reminds me of the very best Aaron Copland, something like Appalachian Spring. There's a sort of American honesty to it."[49] Robert Christgau dubbed Brubeck the "jazz hero of the rock and roll generation".

The Economist wrote: "Above all they found it hard to believe that the most successful jazz in America was being played by a family man, a laid-back Californian, modest, gentle and open, who would happily have been a rancher all his days—except that he couldn't live without performing, because the rhythm of jazz, under all his extrapolation and exploration, was, he had discovered, the rhythm of his heart."

On the night of Brubeck's death, right before the intermission of a performance for Chick Corea and Gary Burton's "Hot House", a tribute was performed solely by Corea at Koerner Hall at the Royal Conservatory of Music in Toronto. The tune played was "Strange Meadow Lark", from Brubeck's perhaps most famous album Time Out.

[/expand] [expand title="Blubecks Play Brubeck – Overview" id="blubecks" tag="h3″]

WITH:
DAN BRUBECK – DRUMS
CHRIS BRUBECK – BASS / TROMBONE
DARIUS BRUBECK – PIANO
AND FEATURING
DAVE O' HIGGINS – SAXOPHONES
BRUBECKS PLAY BRUBECK has recently toured the United Kingdom twice in 2010 and 2011 and played to full houses at
Ronnie Scotts Jazz Club for extended periods. In 2011 they also played a one off concert in Poland which led to being invited back at a time convenient for the group and most recently ( March – 2012 ) Performed at the Cape Town International Jazz Festival.
The personal and music appeal is huge, being sons of Jazz icon Dave Brubeck, and they of course play all of his perennial hits, like Take Five and Blue Rondo a la Turk.
In addition, performances include popular compositions by the three brothers, who have long been on the international circuit in their own right. Since Dave Brubeck, age 92 this year, no longer tours, the demand for this group is high and given popular appeal of the material, it is tailor-made for festivals.
The Brubeck Brothers Quartet (Chris and Dan) have produced three highly successful CD's, Second Nature ( Blue Forest Records), Intuition, featuring Talor Eigsti, (Koch International) and Classified, (Koch International), which have all received rave reviews.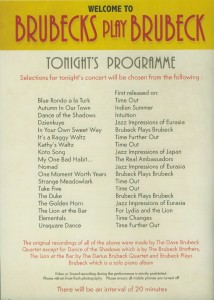 Intuition and Classified were at the top of the Jazz charts in 2006 and 2008. Dan has played at most of the world's greatest venues and has also taught several clinics over the last few years at high schools and colleges across the U.S.

Dan has appeared on The Today Show, The Tonight Show, The Grammy Awards Show with an all-star jazz group including Dave Brubeck and Christian McBride, BBC specials and the nationally syndicated PBS series Jazz in America and with The Brubeck Brothers Quartet on the Sierra Center Stage Concert Series broadcast on PBS.

Playing with his brother, Darius goes back to the 70's when he was a member of Darius' 'Gathering Forces' band. He and Chris joined Darius in South Africa recently for a national tour and last year, Dan and Darius played a program of Brubeck music at Ronnie Scott's. All four Brubeck sons (Darius, Chris, Dan and Matthew) performed Blue Rondo a la Turk in honour of their father at the 2009 Kennedy Center Awards Gala, attended by President and Mrs Obama.

This tour will feature Dave Brubeck's legendary music and original compositions by his sons.

click here to close

[/expand] [expand title="Biogs" id="biogs" tag="h3″]

Chris Brubeck

Chris Brubeck continues to distinguish himself as an innovative performer and composer.  During the 70's he began touring and recording with his father, Dave Brubeck.  Chris plays bass, trombone, piano, guitar and sings and, in the past few decades, has earned international acclaim as composer, performer and leader of his own groups. On stage, his irrepressible enthusiasm is matched by his fluid command of jazz, blues, folk, funk, pop and classical musical styles.  An award-winning composer, he is clearly tuned into the pulse of contemporary music. The respected music critic for The Chicago Tribune, John von Rhein calls Chris: "a composer with a real flair for lyrical melody–a 21st Century Lenny Bernstein."

In the last decade, Chris has created an impressive body of symphonic work while maintaining a demanding touring and recording schedule with the Brubeck Brothers Quartet (with brother Dan on drums). Last year the BBQ released its second Koch recording, Classified which features Chris's composition for woodwind quintet and the BBQ, "Vignettes for Nonet." This innovative fusion of classical and jazz genres is performed with the Grammy-nominated Imani Winds.  (Classified and the BBQ's first Koch release, Intuition, were each in the top ten on jazz radio in 2007 and 2008.)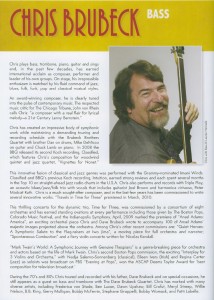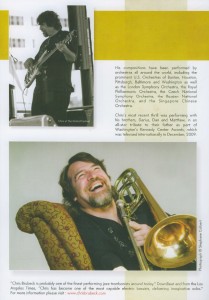 Chris also continues to perform and record with Triple Play, an acoustic blues/jazz/folk trio with vocals that includes guitarist Joel Brown and harmonica virtuoso Peter Madcat Ruth.
Chris is a much sought-after composer, and in the last few years has been commissioned to write many innovative works.  April, 2009 marked the premiere of "Ansel Adams: America", an exciting orchestral piece Chris and Dave Brubeck wrote accompanying 100 of Ansel Adams' majestic images being projected above the orchestra.  Among some of Chris's other recent commissions are: "Quiet Heroes: A Symphonic Salute to the Flagraisers at Iwo Jima", a moving piece for full orchestra and narrator;  "Spontaneous Combustion", a fiery violin concerto Chris wrote for the talented violin soloist Nicolas Kendall.  "Mark Twain's World:  A Symphonic Journey with Genuine Thespians" was a genre-breaking piece for orchestra and actors based on the life of Mark Twain.
Chris's second Boston Pops commission, the exciting "Interplay for 3 Violins and Orchestra," with performances by violinists Nadja Salerno-Sonnenberg (classical), Eileen Ivers (Irish) and Regina Carter (jazz) was broadcast on PBS "Evening at Pops" and won Chris an ASCAP Deems Taylor Award for best composition for television broadcast.
On special occasions, Chris continues to guest on bass and trombone with The Dave Brubeck Quartet.  Chris has worked with many diverse artists, including Frederica von Stade, Ben Luxon, Dawn Upshaw, Bill Crofut, Meryl Streep, Willie Nelson, B.B. King, Gerry Mulligan, Bela Fleck, Bobby McFerrin, Stephane Grappelli, Bobby Womack, Tower of Power, and Patti Labelle.
His compositions have been performed by orchestras all around the world, including the prominent U.S. orchestras of Boston, Houston, Pittsburgh, Baltimore and Washington as well as the London Symphony Orchestra, the Royal Philharmonic Orchestra, the Czech National Symphony Orchestra, the Russian National Orchestra, and the Singapore Chinese Orchestra.
Chris's most recent thrill was performing with his brothers, Darius, Dan and Matthew, in an all-star tribute to their father, Dave Brubeck, as part of Washington's  Kennedy Center Awards, to be televised internationally in December, 2009.
"Chris Brubeck is probably one of the finest performing jazz trombonists around today." DownBeat
Chris has become one of the most capable electric bassists, delivering imaginative solos." Los Angeles Times
Darius Brubeck
During the 1970s, Brubeck led his own groups, played with Don McLean, Larry Coryell and toured the world with Two Generations of Brubeck and The New Brubeck Quartet (Dave, Darius, Chris and Dan Brubeck) as an additional pianist and keyboardist. Several albums were recorded along the way.
His focus changed to South Africa in 1983, when he initiated the first degree course in Jazz Studies offered by an African university. He taught at the University of KwaZulu-Natal (UKZN), Durban and was later appointed Director of the Centre for Jazz and Popular Music, where he remained until 2006. He currently teaches and plays in Europe.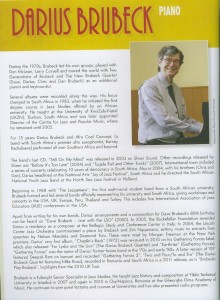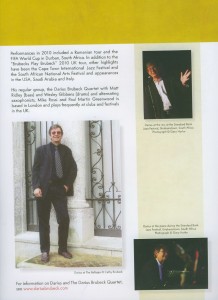 For 15 years, "Darius Brubeck and Afro Cool Concept", with South Africa's premier alto saxophonist, Barney Rachabane, performed all over southern Africa and beyond. This band's last CD, "Still On My Mind" was released in 2003 on Sheer Sound. Other Darius Brubeck recordings released by Sheer include "Before It's Too Late" (2004) and "Tugela Rail and Other Tracks" (2007).
International tours in 2004 included a series of concerts celebrating 10 years of democracy in South Africa and, with his brothers (Chris and Dan), he headlined at the National Arts Festival in South Africa. The Lincoln Center Jazz Orchestra commissioned a piece by Darius and Zim Ngqawana that set music to extracts from speeches by Nelson Mandela and Desmond Tutu. These were read by Morgan Freeman at the New York premiere.
Apart from writing for his own bands, Darius' arrangements for orchestra and a composition for Dave Brubeck's 80th birthday can be heard on "Dave Brubeck – Live with the LSO". The Rockefeller Foundation awarded Darius a residency as a composer at the Bellagio Study and Conference Center in Italy. As a Fulbright Senior Specialist in Jazz Studies, he taught jazz history and composition at universities in Turkey and Romania. He has also toured and given workshops in the UK, Europe, Peru, Australia, Thailand and the USA. His 'rolling reunion band' of former students and colleagues, has appeared regularly at the Cape Town International Jazz Festival.
In 2009, Darius and Dan Brubeck appeared together in Ronnie Scott's 50th Anniversary series playing a Brubeck programme. Darius' recent releases "For Lydia and the Lion" and "Earthrise" are on his Gathering Forces label. 'Gathering Forces' was the name of Darius' fusion band that featured his brother, Dan in the '70s and early '80s. A 90's version of GF included Deepak Ram, Airto Moreira and Matthew Brubeck.
His current group, The Darius Brubeck Quartet, recorded the well-reviewed "For Lydia and the Lion" and plays to consistently sold-out houses at London clubs and summer festivals.
Dan Brubeck
Daniel Brubeck was born in 1954. Of all the musical Brubecks', Dan was always the most intense and assertive, so it was quite natural for him to gravitate toward the drums since he had unbounded energy as a child. He learned from two of the best polyrhythmic drummers in the world, Brubeck Quartet members Joe Morello and Alan Dawson.
Dan's distinctive solos and mastery of poly-rhythms in odd time signatures has earned him the respect of many critics and musicians worldwide. Dan combines melodic phrases with rhythms that often stretch far beyond the bar line with a natural sense of timing that is unparalleled. His solos are compositions unto themselves.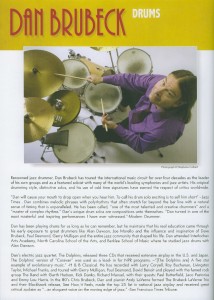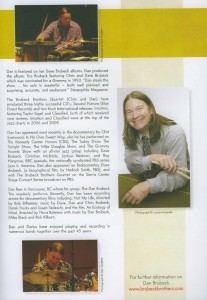 Dan toured the international music circuit for over two decades as leader of his own group, The Dolphins, which released three CDs that received extensive airplay in the U.S. and Japan. He has recorded with Larry Coryell, Livingston Taylor, Michael Franks, and Roy Buchanan and has toured with The Band, Gerry Mulligan, Jon Hendricks, Paul Butterfield, and Warren Bernhardt. In the 80's Chris Brubeck, Dan and pianist Andy LaVerne formed The Brubeck LaVerne Trio and their Blackhawk release, See How it Feels, made the top 25 list in national jazz airplay.
In total, Dan was featured on 10 Dave Brubeck albums and appeared with many of the world's leading orchestras as a member of the Dave Brubeck Quartet. Trio Brubeck with Chris and Dave Brubeck was nominated for a Grammy in 1993 and two of its tracks, "Autumn" and "Jazzanians" were also individually nominated, the latter a rare instance of a recorded drum solo gaining such recognition. "Dan steals the show … His solo is masterful – both well-planned and surprising, accurate, and exuberant. (Stereophile Magazine)
The Brubeck Brothers Quartet (Chris and Dan) have produced three highly successful CD's, Second Nature ( Blue Forest Records), Intuition, featuring Talor Eigsti, (Koch International) and Classified, (Koch International), which have all received rave reviews. Intuition and Classified were at the top of the Jazz charts in 2006 and 2008. Dan has played at most of the world's greatest venues and has also taught several clinics over the last few years at high schools and colleges across the U.S.
Dan has appeared on The Today Show, The Tonight Show, The Grammy Awards Show with an all-star jazz group including Dave Brubeck and Christian McBride, BBC specials and the nationally syndicated PBS series Jazz in America and with The Brubeck Brothers Quartet on the Sierra Center Stage Concert Series broadcast on PBS.
Playing with his brother, Darius goes back to the 70's when he was a member of Darius' 'Gathering Forces' band. He and Chris joined Darius in South Africa recently for a national tour and last year, Dan and Darius played a program of Brubeck music at Ronnie Scott's. All four Brubeck sons (Darius, Chris, Dan and Matthew) performed Blue Rondo a la Turk in honour of their father at the 2009 Kennedy Center Awards Gala, attended by President and Mrs Obama.
Dave O'Higgins
Jazz saxophonist, composer, arranger, educator
Dave played various musical instruments from the age of 7, finally settling on the saxophone. He moved from Derbyshire to London in 1983 to study music at the City University. Whilst still studying he started his own jazz quartet and began gigging with NYJO, John Dankworth & Cleo Laine, & Icelandic jazz-funk band, Mezzoforte.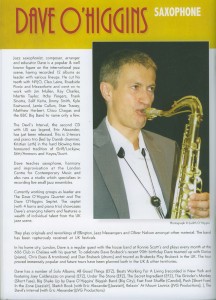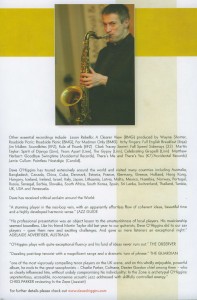 Over the years Dave has won various accolades from the British Jazz Awards including Best Tenor Sax. Sketch Book (Jazzizit) is his 10th solo cd, featuring Dave alongside one of New York's finest tenor saxophonists, Eric Alexander. Dave regularly features as a part of the Ronnie Scotts Allstars & the BBC Big Band.

Fast Foot Shuffle (Candid) & Push (Short Fuse) were conceived for the jazz dance market and have become favourites in clubs like London's Jazz Café. The track North Station is also on compilations Brasilia Slim & Messin' Around. Dave can be seen on many festival stages internationally performing with the breathtaking Jazzcotech Dancers.

Dave has played over the years with "everyone and their auntie" from Martin Taylor, Ray Charles, Frank Sinatra & Matthew Herbert to Salif Keita. He has also done a fair amount of studio work (jingles, pop stuff, films, library), composes & arranges for jazz ensembles of all sizes, and teaches saxophone & harmony at the London Centre for Contemporary Music and Goldsmiths College.

"A stunning player in the neo-bop vein, with an apparently effortless flow of coherent ideas, beautiful time and a highly developed harmonic sense."
JAZZ GUIDE

and on this wholly enjoyable, powerful album, he nods to the great saxophonists – Charlie Parker, Coltrane, Dexter Gordon chief among them – who so clearly influenced him, without unduly compromising his individuality; In the Zone is archetypal O'Higgins: unpretentious, accessible, no-nonsense acoustic jazz addressed with skillfully controlled energy."
CHRIS PARKER reviewing In the Zone (Jazzizit)

click here to close

[/expand] [expand title="Discography" tag="h3″]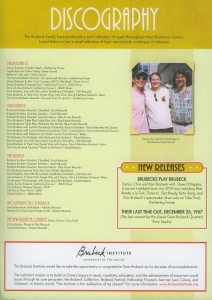 [/expand] [expand title="Concert Programmes" tag="h3″]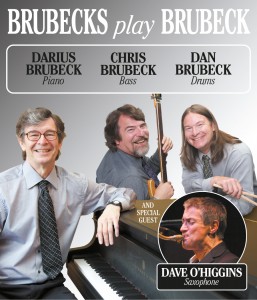 [/expand] [expand title="Reviews" id="reviews" tag="h3″]

BRUBECKS PLAY BRUBECK has recently toured the United Kingdom twice (2010 and 2011) and played to full houses at Ronnie Scott's Jazz Club for extended periods. In 2011 they also played a one-off concert in Poland which led to being invited back at a time convenient for the group and most recently (March 2012) 'Bs Play B" performed at the Cape Town International Jazz Festival.

The personal and music appeal is huge, being sons of Jazz Icon, Dave Brubeck, and they of course play all his perennial hits, like TAKE FIVE and BLUE RONDO A LA TURK.

In addition, performances include popular compositions by the three brothers, who have long been on the international circuit in their own right. Since Dave Brubeck, age 92 this year, no longer tours, the demand for this group is high and given the popular appeal of the material, it is tailor- made for Festivals

Reviews for 'Brubecks Play Brubeck' 2010 and 2011.


—-

Brubecks Play Brubeck, Ronnie Scott's, London
John Fordham – The Guardian (Dec 3, 2010)
Tuesday 30 November 2010

Few jazz musicians make it into the pop charts, even fewer for instrumental music of such coolly labyrinthine grooves that audiences could barely shake a leg to it. California-born pianist and composer Dave Brubeck – who did all that in the 1950s and 60s, and whose 90th birthday is next week – is one of the great popularisers of jazz, a visionary who made it speak to millions without selling its audacious spirit down the river. He no longer plays internationally, but his musician sons Darius, Chris and Dan, augmented by British saxist Dave O'Higgins, are rekindling the old magic. The four cantered affectionately through the hit list, but shrewdly didn't try to clone the original sound. Typically playful, time-juggling themes such as Raggy Waltz emphasised both their composer's far-sighted fusions of classical and jazz forms, and the current ensemble's own identity, particularly in drummer Dan's looser, splashier sound and electric bassist Chris's slippery and sometimes funk-influenced phrasing. And O'Higgins is a contemporary tenor and soprano player of keening soulfulness rather than an airy, fluttering alto saxist like the late Paul Desmond. But O'Higgins's edge brought a renewed poignancy to the dreamy Koto Song, and on Take Five his climax-building high-end multiphonics contrasted with Darius's steady enunciation of the famous 5/4 riff. The pianist's Lion at the Bar, a boogieing groover that reflected Darius's playing and teaching experience in South Africa, reminded the audience that sheltering under the Brubeck umbrella is by no means all the maestro's offspring do.

—-

Brubecks Play Brubeck, The Bridgewater Hall, 22 November, 2010
Simon A. Morrison – City Life: What's On (Nov 22, 2010)

'Brubecks Play Brubeck' as in: three sons of jazz great Dave Brubeck play music from their Dad's back catalogue.  Brubeck Snr – 90 on December 6th – no longer flies so if you want to hear Brubeck music, who better than the people who grew with it as much as Oreos and summer cook outs?  Would you rather have Julian Lennon sing you Imagine, or Jedward?

Eldest son Darius takes his Dad's place on piano.  Dan Brubeck's on drums, playing a very modern (in the sense of 50's modern) fractious style, progressing his father's love of complex time signatures.  Chris Brubeck straps on what looks like a fretless bass, playing the strings high up the neck to give it a double bass sound.  They are joined by limey Dave O'Higgins on sax, who traces elegant melodies before stepping away to let the Brubecks take counterpoint, tag-teaming solos like brothers playing backyard basketball.

The set kicks off with Blue Rondo a la Turk, then progresses through cuts from Brubeck Snr's repertoire: In Your Own Sweet Way, Koto Song, It's A Raggy Waltz… each treated with deference, executed with competence.  Dave Brubeck had that smoother, West Coast swing more in tune with Chet Baker and Gerry Mulligan than east coast bebop peers such as Bud Powell.  However things pick up pace with Nomad before concluding with the ever fabulous Take 5 and Unsquare Dance, in 7/4 time (try clicking your fingers to that… it renders the coolest of hip cats a maths geek at a faculty dance).
The Bridgewater Hall is a fair call for such a concert but it's regrettably undersubscribed – you want jazz to lift the roof off the place and that's too lofty an ambition for tonight.  However, with four of Dave's six children now world-renowned musicians, you can only imagine how much fun it was round at the Brubecks come Christmas…

—-

Brubecks on Brubeck, Town Hall, Birmingham, 29-11-2010
Peter Bacon – The Jazz Breakfast, November 30, 2010

A bitterly cold Birmingham Monday evening, and if outside the Town Hall the German market was lifting spirits a little, inside the Town Hall the spirit of Dave Brubeck was doing a lot more.

The three Brubeck brothers, Darius on piano, Chris on bass and Dan on drums, together with Dave O'Higgins on tenor and soprano saxophones, played a programme which mixed the big hits with lesser known Brubeck pieces. Shrewdly, all were taken from a strongly contained part of the expansive Brubeck canon: the best-selling Time Out and Time Further Out albums, and the Jazz Impressions of Eurasia and Jazz Impressions of Japan albums which bookended them.
Now there were bound to be conflicting desires in the hearts of the predominantly mature audience (that is to say, an audience that has been living with this music for the last 50 years): they wanted to hear Three To Get Ready, Blue Rondo a la Turk, It's A Raggy Waltz, Take Five, all as they have them stored in their memories. But, if they thought about it, they also wanted proper jazz, ie spontaneous creation in the moment, and the players up there on the stage to be themselves.

And that is what they got. Darius, Chris and Dan may be the sons of Dave but they are also strong and experienced musicians in their own right, and playing cover versions of the Dave Brubeck Quartet's greatest hits preserved in aspic is not their style.

There were clever references back, of course. Darius favoured the strongly rhythmic, richly harmonised double-handed chordal approach to improvisation that is very much in the tradition of his father; Dan, in the crucial drum solo in Take Five, made just the right references to Joe Morrello's original while going his own way.

As a tribute to the music of Dave Brubeck, one could not have asked for more.

The Middle Eastern inflections of The Golden Horn and Nomad, from the Eurasian impressions, and The Koto Song from the Japanese ones, provided rich expansions of the Brubeck sound and style, reminding us the huge part Dave Brubeck had played (like Duke Ellington before him) in taking jazz to the world, and feeding the world back into jazz.

Strikingly, for me, the two real high points of the evening were ones when the musical characters on the stage found themselves loosened from the Dave Brubeck Quartet material.

One was Dance Of The Shadows, a recent tune from Chris and Dan's own band, which brought forth more relaxed performances from all four players, especially from Dan whose natural home would seem to be in a jazz-rock fusion space. O'Higgins, here, felt able to let himself go a bit, and dig deeper into his wealth of tenor power.

The other highlight was still a Dave Brubeck Quartet song, Strange Meadow Lark, but freed from the quartet format. Darius and Chris, this time on his more usual instrument, the trombone, played a truly glorious duet and sounded like this was where they were truly themselves.

The audience clapped along with infectious 7/4 rhythm of Unsquare Dance as the encore, and then queued to meet the band and share their memories with them. Dave Brubeck's enduring spirit would warm the journey home.

—-

Brubecks Play Brubeck, Ronnie Scott's – review By Jack Massarik 10 Nov 2011

Piano patriarch Dave Brubeck rations his appearances these days and rightly so. He'd probably love to jam seven nights a week but he turns 92 next month and is also aware that three of his sons – pianist Darius, bass guitarist Chris and drummer Dave – are perfectly capable of running the family business.
Darius, the eldest and most visually like his father, plays stylish piano and knows the score.

"We have some new tunes for you," he said last night, "but our family repertoire contains many hits and we play 'em all." The opener, Blue Rondo à la Turk, was a perfect example. It once spent six months in the US top 40, socking exotic beats and quasi-classical melody lines to unsuspecting jukebox listeners.
Fronting the quartet on tenor and soprano saxes was Dave O'Higgins, a Londoner following in the footsteps of Paul Desmond and Bobby Militello.

O'Higgins, who also works with US tenorist Eric Alexander, is another case of Britain achieving parity in the international jazz world. He sailed through the time-signature test with A Raggy Waltz (6/8 time), Dance of the Shadows (5/4) and Autumn in Our Town (3/4). These tunes inhabit a typical Brubeck set, and if they don't play Take Five as well you should ask for your money back.

—-

Friday, November 11 – Brubecks Play Brubeck at Ronnie Scott's by Clive Davis

At the end of a joyous second set the pianist Darius Brubeck and his brothers cued in the audience's handclaps on Unsquare Dance. More than half a century after their father invited listeners to start counting in odd numbers, the music has lost none of its poise. If Dave Brubeck was not treated kindly by Fifties critics, who seemed suspicious of his ability to reach out to folk who would never have been caught wearing a beret, history has surely vindicated him.

At 90, the patriarch is no longer a globetrotter, but Darius, drummer Dan and bass guitarist-trombonist Chris are doing a sterling job of spreading the word. (Another member of the clan, Matt, an excellent cellist and sometime collaborator with Yo-Yo Ma, has made a name for himself with bands including the wonderfully quirky Oranj Symphonette.) Launching their tour alongside British tenor saxophonist Dave O'Higgins, the three brothers cannily balanced respect for the past with a determination to push on further down the road.

O'Higgins brings muscle as well as brains to the line-up. On Take Five his solo brought a hint of Coltrane into the mix. If the group's version of Blue Rondo à la Turk was a mite ponderous in comparison with the original, the remainder of the programme grew in stature. Darius is as cultured a pianist as his father. His own composition The Lion at the Bar — inspired by memories of his time as an educator in South Africa — opened with tremulous, Abdullah Ibrahim-like chords before swooping into an impassioned township rhythm.

Chris Brubeck's graceful lines on the fretless bass stirred a subtle counterpoint throughout. Brother Dan's pony-tail may not be the last word in hipster fashion, but his drumming was an immaculate fusion of power and dexterity. Joe Morello would surely have approved of the epic solo on Take Five. Early in the second set, Chris demonstrated his versatility by switching to trombone for a mellifluous version of Strange Meadowlark, Darius supplying the accompaniment. The group's residency ends on Saturday.

click here to close

[/expand] [expand title="Photos" tag="3]
[/expand]