Neil Innes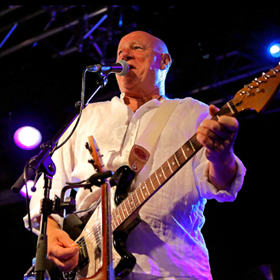 Over 30 years ago, the "Innes Book Of Records" was first broadcast on BBC 2 a little after 10 o' clock in the evening, but more significantly, immediately following a gripping episode of the serialized Daphne Du Maurier novel, "Rebecca".
It found an instant sympathetic audience as people stayed tuned and a further six programmes were commissioned almost as soon as the first series ended.
Producer Ian Kiell, who had skillfully managed the meager resources of Eric Idle's "Rutland Weekend Television", (the smallest and the "poorest" television station in the UK) had telephoned me to suggest we do a "Rutland Weekend Songbook" or something, hastily adding; "of course, we cannot possibly call it that…"
We both agreed that putting pictures to songs was challenging and fun and that the first step should be lunch.
As I put the phone down it dawned on me that I was being offered my own show and my head became a battlefield of "dos" and "don'ts" and the "don'ts" were clearly gaining the upper hand.
Don't sit on a high stool with a famous guest and sing a duet, don't be surrounded by thousands of light bulbs, don't wear a wig, or maybe I should wear a wig… or two…
Over lunch we decided to avoid all the show business clichés and try a more subdued approach to making television. No crash, no bang, no wallop attention-seeking tactics for us, no, we longed for something more akin to the "potter's wheel" or the "swans" of bygone days when television used to have "intermissions" and even "close down".
We determined that each programme should be a gentle journey through time with "Songs and Pictures about People and Things" and if anyone should ever wonder, even for the briefest second, what it was all about, we would have failed. But what do we call it?
Ian suggested "The Innes Book Of Records" and I threw my hands up in horror! Surely that was precisely the kind of tackiness we wanted to avoid! There had to be something else…
On my way home in the taxi, I had an epiphany. I picked up the house brick in my briefcase that also doubled as one of the very first mobile phones and tapped in Ian's number.
Barely disguising the excitement in my voice, I announced that I had the title for the show. It was obvious, why hadn't we thought of it before? "Parodies Lost!"
I shall never forget the pause that greeted my epiphany or the dismal inadequacy of the words "most amusing" in context with such moments of monumental inspiration.
However, casting all doubts aside, we went into pre-production under the banner of "Parodies Lost" and BBC Bristol would become our "base".
This was a masterstroke on Ian's part as it soon became apparent that this was an ambitious project and everyone had to muck in and help one another if we were to succeed. Everyone did. Everyone brought the toys of their own expertise to the sandpit and we all played happily together. We were a Team.
We soon evolved a style, I could request 300 Mongolian horsemen to ride over a hill in Somerset and Ian would come up with something similar, but within the budget.
It was on top of such a hill in Somerset, bewigged, heavily made-up and dressed in white tie and tails as "Nick Cabaret", (so called because the outfit was "nicked" from a character in the film "Cabaret") that an elderly couple with a rather fat dog asked me what we were doing.
"Making a programme for BBC 2," I smiled.
The dog wheezed.
"Oh, what's it called?" I had been waiting for this moment.
"Parodies Lost", I beamed.
The dog coughed.
"I beg your pardon?" said the man.
"Par-o-dies Lost", I articulated, "you know, not "Paradise Lost" but "Parodies Lost". They thanked me and went slowly on their way, reluctant dog in tow. I felt distinctly uneasy.
Later that evening I saw a can of film, sealed around the rim with camera tape upon which was boldly written in black marker pen: "Paroids Lost".[sic] And at that moment I realized that Ian had been right all along and so it became: "The Innes Book Of Records".
[/expand]